Hello Reader,
I'm in a lot of gardening groups on Facebook and one of my favorite petty things to do at this time of year is to scan threads for bad gardening advice (Don't judge!).
Readers, there's so much of it! I don't engage, because I have a strict "don't feed the trolls" rule when it comes to interacting online, but I do look for patterns and trends. Every year, people post pictures of unhappy Pacific Northwest tomatoes in May/June wondering what's wrong. People tell them to crush up eggshells to increase calcium, do a foliar feeding, spray with pesticides...the list goes on. But the root cause is always the same--the soil is too cold and the tomatoes don't like cold feet.
In most of these threads, someone eventually points out the cold soil temps so usually the unhappy gardener gets the right answer. But I do wonder how many folks are out there crushing up eggshells to feed their tomatoes in May when what the tomato really needs is a warm blanket!
So when I woke up to a thread about petunias the other day, I flagged it for consideration while I sipped my morning coffee. I love petunias and put a petunia in almost every single one of my outdoor pots each spring. Upright and trailing, purple and violet and bright white, petunias are versatile and hardy and absolutely gorgeous.
But they also take work. The more time you spend deadheading spent blooms, the longer and more beautifully they'll bloom. On the morning in question, someone posted a picture of a petunia plant full of spent blooms and wondered how to "fix it."
I sipped my coffee and settled in for a wild ride through the comments on that one. After people suggested all sorts of things like fertilizer and repotting and more water/less water/different watering timing, the comments veered into deadheading. And the advice really shocked me. Because the top commenter recommended deadheading multiple times a day for best results.
For Best Results
I've told you in the past that I'm skeptical of any sentence that begins with "Writers should...[insert writing advice here]." And after I saw that well-meaning gardening advice, I added "For best results" to my list of red flags.
Was the commenter wrong? Probably not. Getting out there and removing every single spent petunia bloom the second it's less than perfect probably does give the plant the best opportunity to put its energy into making new blooms instead of making seeds. But can you imagine adding "deadhead the petunias" to your to do list six times a day? I can't.
I probably deadhead less than I should. Maybe once a week? Maybe less when it's hot or I'm busy or the bees are out there doing their thing. But guess what? My petunias are still beautiful. They might be incrementally more beautiful if I deadheaded more often, but there's a balance between the time I have available for that type of garden maintenance and the ultimate payoff.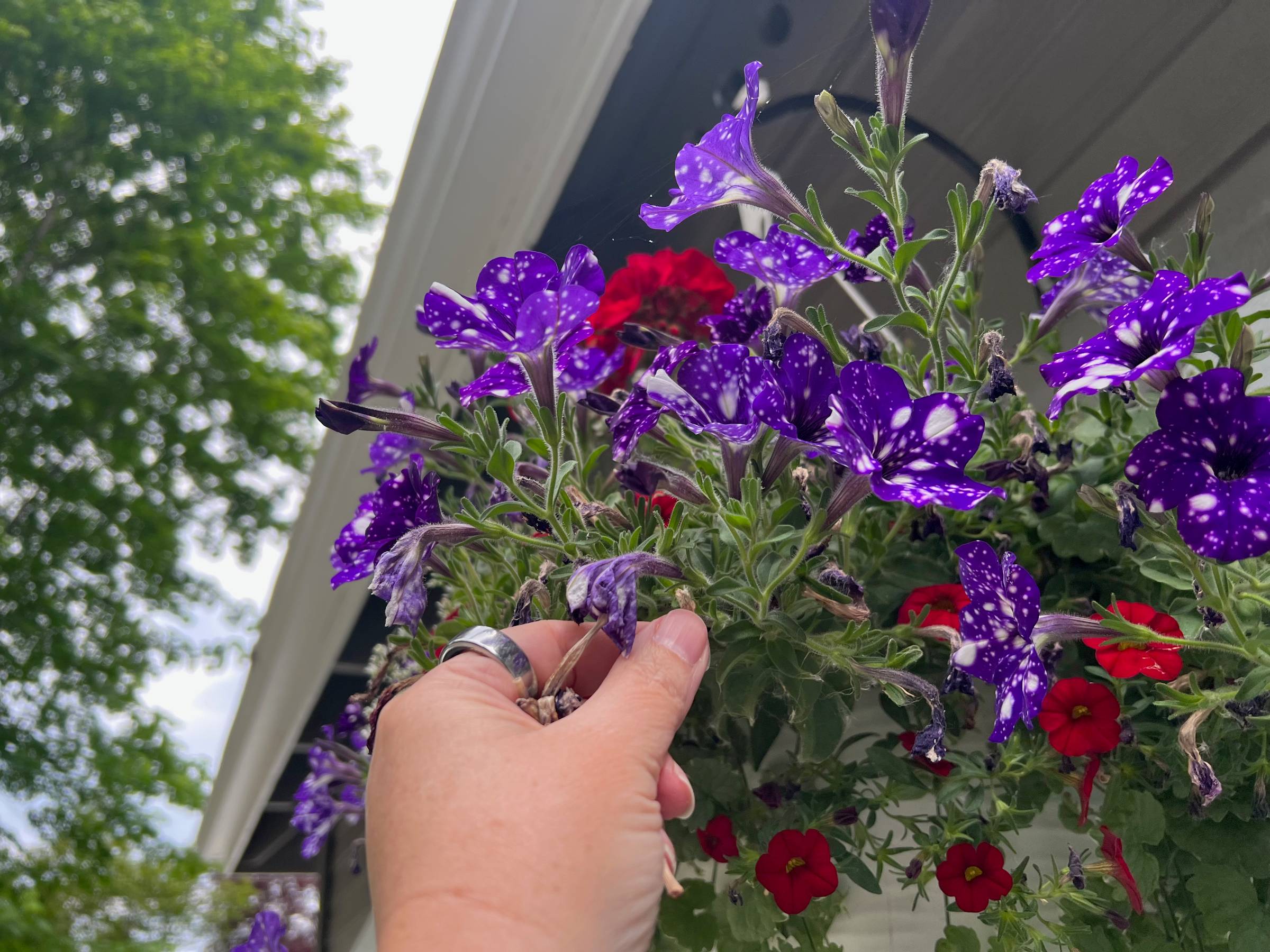 A piece of writing advice I see all the time is "For best results, make time to write every day." Like deadheading the petunias, if writing every day works for you, go for it! But if you're anything like me, there are many days when you're too busy, too drained, or would frankly just rather do something else. And that's OK.
It doesn't mean you're not a "real" writer or that you're doing it wrong!
You might find that your petunias (stories) bloom just as well on a slightly different schedule. That's your ideal. And it's OK if it's different than someone else's ideal.
Even that gardener who had a basket full of spent blooms was able to get back out there, deadhead, sprinkle on a little bit of fertilizer, and, a week later, enjoy those petunias once again. She didn't have to throw out the whole basket or start over or give up on ever having a plant full of flowers. She just did a little maintenance and picked up where she left off.
This week as you think about your story and your writing life, I invite you to have a little bit of skepticism about writing advice that starts with "For best results." Does it work for you? Does it make you feel energized, supported, and creative? If not, seek out the advice that works for you.
Warmly,
Julie
PS - Thank you to everyone who filled out my 3-minute survey last week. The responses have been so helpful and informative! If you've been meaning to fill it out, but haven't yet, there's still time: https://forms.gle/VWrGjTZd8XEGY86M9​